Central Missouri Speedway Unveils Action-Packed 2023 Schedule of Events!
February 17, 2023 | by Sam Stoecklin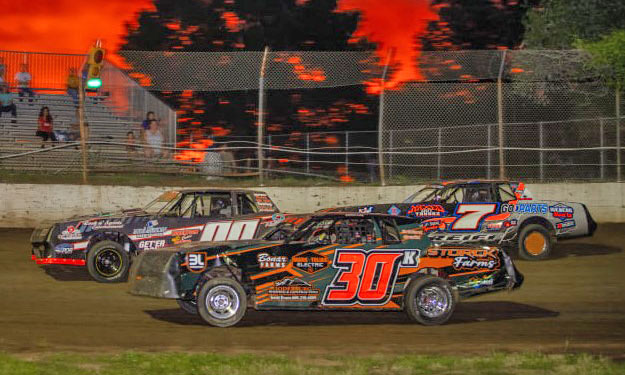 (Warrensburg, Missouri) The 2023 schedule of events for Central Missouri Speedway (CMS) features 23 nights of racing spanning multiple classes and special events from April to September. On the verge of beginning their 29th year of operations, track owners and promoters Earl and Susan Walls and the staff are gearing up for one of the most action-packed and multi-divisional special event seasons in the track's storied history.
As previously announced, all weekly race divisions at CMS will complete under the sanctioning POWRi banner, including B-Mods, Super Stocks, Pure Stocks, and Midwest Mods. In addition to the weekly championship divisions, CMS will open its gates to drivers and fans of Late Models, Sprints, Midgets, Lightning Sprints, and Vintage cars on select nights throughout the season. Season Passes are available for the coming season as follows: Adult Season Pass $350 (save $55), Senior Citizen 65 to 75 years or Active Military $260 (save $52).
Season highlights include the traditional special events held on the 'Big 3 Summer Holiday Weekends' based around Memorial Day, Independence Day, and Labor Day. All weekly race divisions will have separate big-money special events as noted on the schedule below. Late Model fans have three opportunities to take in the full-bodied machines via one appearance by the Malvern Bank Super Late Model Series and two appearances for the Cash Money Super Dirt Series. Vintage racing is alive and well in the Midwest as these drivers have at least three appearances int 2023.
Open-wheel race fans will rejoice in the return of the WAR Sprint League for two events along with several appearances by Midwest Lightning Sprints. The POWRi National Midget League as well as the POWRi West Midget League will both make their first-ever CMS appearances on a rare Friday night event on June 30, to bring in the Independence Day weekend special events. Also, on the card for their first-ever appearance is the POWRi 305 sprints plus the Lightning Sprints.
One of the most anticipated events will be the return of the Hog Roast Nationals, which takes place on Saturday, September 16 and features a $3,000-to-win POWRi Super Stock special event. POWRi B-Mods will also race for $1,000 to win, in addition POWRi Pure Stocks will also compete on this night. A post-race hog roast and bonfire party is planned to cap the night. Additional information regarding special sponsorship opportunities for this event will be announced at a later date.
CMS track registration for the year remains at $60; however, drivers have a chance to save $10 on registration at the pre-season event, which takes place at Pub 13 (next to the speedway) on Saturday, February 25 from 11 a.m. to 2 p.m. A specially priced lunch and beer bucket specials will be available to drivers completing their paperwork this day. Drivers can still save on registration even if they cannot make the registration event by visiting CentralMissouriSpeedway.net and clicking on the Rules/Forms link, then scrolling down to the Forms section and selecting Track Registration form. The form may be printed from here and check sent to the address provided. Early registration is $50, all registration received after March 1 is $60.
POWRi membership registration for the 2023 season is available online and available for competitors. For more information visit MyRacePass.com/Registrations. Benefits include year-end point fund and secondary medical insurance.
Susan Walls is actively building the list of 2023 sponsors for the season. Business partnerships include Large Screen LED Signboard advertising, along with class sponsorship, track signage, driver sheet sponsors, and event and race night sponsorship. Contact Susan at 816.229.1338 today, no calls after 8 p.m. please.
Follow CMS on Twitter and YouTube. Visit our website at CentralMissouriSpeedway.net, or like us on Facebook. Visit the CMS MyRacePass site.
2023 Central Missouri Speedway Schedule of Events
April 15 - Annual Car Show, 11 a.m. to 2 p.m. in the Pub 13 Parking Lot. Free Event, followed by…
April 15 - Practice Session, 3 to 7 p.m. All dirt oval classes welcome; ALL pit passes $25. Free grandstand admission
April 22 - Race #1 - Douglas Ray Brockert Memorial Race - Season Opener Weekly Racing in All Classes
April 29 - Race #2 - Weekly Racing in All Classes + POWRi Lightning Sprints
May 6 - Race #3 - Weekly Racing in All Classes
May 13 - Race #4 - Seeburg Muffler 4th Annual SLMR Late Model Rumble, plus Weekly Racing in All Classes
May 20 - Race #5 - Cliff Harris Ford Race Night - Weekly Racing in All Classes
May 27 - Saturday - Race #6 - Memorial Day Weekend Night One: $1,000-to-win POWRi B-Mods and $1,000-to-win POWRi Super Stocks, also running POWRi Pure Stocks, POWRi Midwest Mods, and POWRi Lightning Sprints
May 28 - Sunday - Race #7 - Memorial Day Weekend Night Two: $2,000-to-win B-Mods and $1,000-to-win POWRi Super Stocks, also running POWRi Pure Stocks, POWRi Midwest Mods, and POWRi Lightning Sprints
June 3 - Race #8 - Joslin's Jewelry Race Night - Weekly Racing in All Classes + Show-Me Vintage Series
June 10 - Race #9 - Weekly Racing in All Classes + POWRi Lightning Sprints
June 17 - Race #10 - Pepsi Night at the Races featuring Lucas Oil POWRi WAR Sprint League + Super Stocks, Pure Stocks, and Midwest Mods (no B-Mods on this night)
June 24 - Race #11 - Cash Money Late Models + Weekly Racing in All Classes
June 30 (Friday) - Race #12 - Independence Day Weekend Night One: POWRi National Midget League and POWRi West Midget League, plus POWRi 305 Sprints and POWRi Lightning Sprints
July 1 (Saturday) - Race #13 - Independence Day Weekend Night Two: 23rd Annual Tom Wilson Memorial, featuring $3,000-to-win B-Mods, $800-to-win POWRi Pure Stocks plus POWRi Super Stocks and POWRi Midwest Mods
July 8 - Weekend Off - No Racing!
July 15 - Race #14 - Comfort Inn Warrensburg Station feat. Weekly Racing in All Classes + Show-Me Vintage Series
July 22 - Race #15 - $2,500-to-Win Super Stock Showdown, (No Super Stock Track Points) plus Weekly Racing and track points for B-Mods, POWRi Pure Stocks and POWRi Midwest Mods
July 29 - Race #16 - Lucas Oil POWRi WAR Sprint League + B-Mods, Pure Stocks, and Midwest Mods (no Super Stocks)
August 5 - Race #17 - Weekly Racing in All Classes and Kid's Night at the Speedway
August 12 - Race #18 - Midwest Coating Inc. presents Weekly Racing in All Classes
August 19 - Race #19 - Weekly Racing in All Classes + POWRi Lightning Sprints
August 26 - Race #20 - Weekly Racing in All Classes + POWRi Lightning Sprints (All CMS Track Points End this Night)
Sept 2 (Saturday) - Race #21 - Labor Day Weekend Night One: Cash Money Late Models + Show-Me Vintage Series, $500-to-win POWRi Midwest Mods and POWRi Lightning Sprints
Sept 3 (Sunday) - Race #22 - Labor Day Weekend Night Two: $2,000-to-win POWRi B-Mods, $1,000-to-win POWRi Super Stocks. Also running POWRi Pure Stocks and POWRi Lightning Sprints
September 16 - Race #23 - 3rd Annual Hog Roast Nationals, $3,000-to-Win POWRi Super Stocks! Plus, $1,000-to-win POWRi B-Mods. Also running POWRi Pure Stocks (no Midwest Mods on this night)
September 30 - End of Year Celebration, Details TBA